I´m back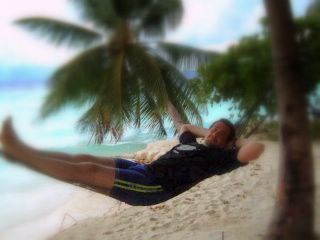 RELAX
Good morning sunshine! I´m here again, at my parents (on my once-upon-a-time-there-was-a-teenager room).
It´s crazy, and at the same time a little sad, to feel how much you can miss little things that early, you didn´t even notice. From the taste of the coffe in the morning to the skyblue colored light that fills my apartment bedroom trough the courtains. Yes, that was my everyday life a few months ago...
OK, I depressed you all again, hehehee
I´M FINE
! and extremely happy to have spent a wonderfull weekend at my place, surrounded by all those "little things" and above all them,
LOVE
.
It was very touchy to check my emails when I got back finding frases like "I hope you had an incredible weekend in the city!!" or "Do not give up"... thank you guys, I won´t... life is brighter because of you, and yes, you gave me the strenght to keep on. you know who you are. THANK YOU.
WEEKEND IN DOWNTOWN:
Saturday afternoon

: After spending the day togheter, my buddy had to go to work, so I stayed home with

Andrea (Queen Elizabeth)

who came "to take care of me" in the meantime when my husband was working. (wich means to share a lot of

mates

and laugh about all the people we know like two cruel bitches having a great time). Then

Fery

came and join us for a few hours. I met this great guy in the chat and I´m very happy to have found such an icredible kind person, besides he stops the traffic looking

so damned good.

(as Sil says: "like in a gay porn cover". yes, a very nice way to say "HOT STUFF" Don´t you think?) . The three of us stayed having

sugared mate

talking about everything without stoping for about three hours. (it was fu!) until he left.

Saturday night (live!): Dinner with Andrea, Manu (another cuttie, who´s staying for a while at my apartment. He´s so nice wit us, we met him in one of the latest productions I´ve been part of, and we became friends right away, now he´s living with us until he finds an apartment to rent) and Martha (my flat neighbour, she lives next door and is more than just a friend, is like an extension of my mother! I just can´t live without her) We enjoyed dinner togheter and remained at the table until 3.30am! talking an talking and talking and talking...

Sunday

: breakfast in bed, honneymoon afternoon and the visit of another new Jewell I foun on my way:

DINA

(I won´t post about how I met her because I don´t really want to embarress her... I´ll just say that it was a very sweet situation at the wedding of two friends we have in common - it was the first legal gay wedding for both of us-) DINA

BROUGHT ME PEANUT BUTTER ICE CREAM!!!!!

y favorite! and we ate it as predators! I love you!. Dina is so magicall, for a moment it was hard too me to think how did we get this far, knowing each other and getting everyday more surprissed about how similar and crazy we are. Then my family came home (to take me to church) and they took me out o a car ride while my buddy was cooking dinner. We ate all togheter and they (parents and my two little brothers) left. I had a hot bath (throwing water at my buddy until he was so pissed of to actually want to drown me) and went to sleep.

monday

: I slept the whole morning and spent the day with my buddy and Manu. Then, Andrea (who had been out from work earlier than ussual) came along, so we started again with the whole

mate thing

. A few hours later, my designated nurse for the evening,

AUGUSTO

(yes, the same one I told you about in my

TWILIGHT ZONE

post), came home surprice to find my appartment full of people (I was supposed to be alone, that´s why we asked him to came and take care of me -yup, like a fucking baby-) and guess what he brought me?

PEANUT BUTTER!!!!!!!!!!

so we stayed

having

mates

and peanut butter until my father came to drive me home.
So... this was my SPA RESORT EXPERIENCE. A little of fresh air to this stucked atmosphere I´m breathing lately...
I started to write my sequel of TWIGLIGHT ZONE post and I found it very hard. There are a lot of tiny details that cannot be ignored but each one of them refers to a new whole fucking sstory... so i´m trying my best to make them short not to bored you... so, i´m on my way...
see you all soon
take care
IAN.-