TIME MACHINE - The 80´s Game
And we tought we were cool
This morning I woke up with a very curious need (yes, I need a shrink, I know... or maybe to get laid more often...) I wanted to open a new playlist ibcluding only 80´s music, I wanted a playlist full of old hits, those u don´t even remember that existed. Those that are hidden in some warmth corner of our memories...
BUT THERE WAS A PROBLEM....(why the hell tere´s always a problem??????)
I´M UST 25 YEARS OLD (1979), SO... I WASN´T OLD ENOUGH TO ENJOY THOSE SONGS AS I AM DOING IT NOW. And I discover that it was a little hard for me to remember names and titles such as Martika(Toy Soldiers), Tasmine Archer (Sleepping Satelite) or Kim Carnes(Bette Davis Eyes).
A little upset with my weak memory and keen on the idea of making a memorabble hit-to-death playlist, I started to ask all my MSN friends worldwide this silly question:
"tell me the first five 80´s songs that you can recall right now"

And the results were very interesting, considering they have diferent ages, thery don´t know each other and they are from diferent parts of the world... there is one thing they have in common: "
They love the 80´s.
Silvana

- B.A. Argentina (she just answered this,)
All DURAN DURAN songs, and you got more tan five there!
Michael

- N.York USA (sexyboy!)
URGENT.

AFRICA (the Toto song)

REAL MEN

PIANO MAN

THRILLER.
Dina - B.A. Argentina (blond ambition)
WHAT A FEELING - FLASHDANCE.

FAME

FIRST TOUCH, FIRST LOVE (COKE COMMERCIAL).

WAKE ME UP BEFORE YOU GOGO (G. MICHAEL)
Erico - B.A. Argentina (cutie!)
enjoy the silence - depeche mode

soda stereo - ciudad de la furia (arg)

fito paez - giros (arg)

sweet dreams - annie lennox

duran duran - ordinary world
Luis & Ducky Carballude (happy marrriage does exist!)
never say goobye (bon jovi)

yesterday (guns n´roses)

la chica del bikini azul (Luis Miguel)

We will rock you (Queen)

I'll be there for you (Bon Jovi)
LeoTom - Junín Argentina (yeah... the town where Evita was born)
billy jean (m jackson)

Careless Whispers (Wham)

lunes por la madrugada (los abuelos de la nada (arg)

no todo lo que brilla es oro (g.i.t.)(arg)

.... i think i accidentally erased it...
Dekel - Tel-Aviv. Israel (ANGEL)
samantha fox - touch me.
madonna - la isla bonia
bangels - eternal flame
a-ha - take on me
soft cell - tainted love
Guillermo - B.A. Argentina (guille rules!)
Material Girl

Private

Idaho
Joshua's tree
Ui Ui Ui (redondos) (arg)
Mañanas de abasto (Sumo)(arg)
George - Tel-Aviv Israel (Thee sweetest guy in the world)
aha-take on me
sanra-maria magdalena
scorpions-wind of change
modern talking - brother Louie
madonna-whos that girl
LPC - Parana Argentina (I love u!)
Im through with love, Eric Carmen
Bridge to your heart - Wax
it´s over - level 42
father figure, george michael
Africa - 1927
Wilco - Amsterdan Holland (Sweet baby)
purple rain.prince
madonna. like a player
queen, bohemian rhapsody
Daniel . Colombia (can´t remember the city)
JENNY´S GOT A GUN aerosmith
don't cry .guns n roses
any are u ok . michael jackson
alphaville - big in japan
Javi - Cordoba Argetina (zandungaaa)
Never Can Say Goodbye; GLORIA GAYNOR
She Works Hard for the Money; DONNA SUMMER
Cherish; KOOL & THE GANG
I'm Coming out; DIANA ROSS
Break It Down Again; TEARS FOR FEARS
BETH - Iowa USA (Beware, she´s wearing pink)
love in an elevator. aerosmith
madonna - holiday
electric youth - debbie gibson
purple rain - prince
U2 - sunday bloody sunday (that's 80's..right?? or 70's?)
Maxwell - London U.K. (gentle soul)
eagles . hotel california
crowded house. don´t dream is over
bette davies eyes. Kim Carnes
bonnye tyler. total eclipse of the heart
eurithmics. sweet dreams
I think you had enough of this for now. I invite you all to post your top five 80´s songs on my comments, so I could keep getting itunes to add.
Laer I´ll tell you all about this worldwwide experment (thoughts, conclussions, etc.) Until then... stay tuned and don´t forget your trashy ripped jeans and your hairspray!
kisses
IAN.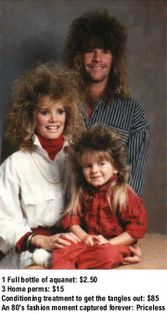 CLICK TO ENLARGE.-