The day ANGELS came from heaven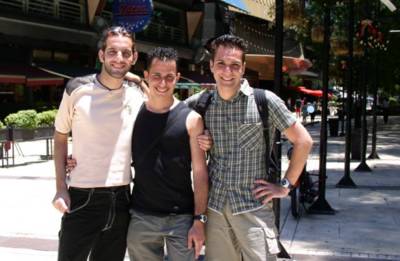 Dekel, George and I. Recoleta-BUENOS AIRES
Today it´s been a year since I first hugged them at the airport. A year!! can u believe it guys? it seems to be yesterday when I took u both to walk in front of the Pink House the day u arrived to this crazy city.
December 31st, 2003
I got up early and called for a car to take me to the airport, the moment i had been waiting for so long was so close that I couldn´t sleep the night before:
DEKEL
, my beloved friend from Israel and
GEORGE
, one of the sweetest persons I ever met, were here, just a few minutes far from my appartment.
Yes, two
ANGELS
came to my life bringing so much love and happyness, making me feel we were i heaven, enjoying each moment togheter, laughing about ourselves and breathing love every minute.
They showed me how important is to believe in dreams and to go for them.
I kept each moment we´ve shared in a warmth corner of my hart, and I can´t stop smiling when I remembered them... from the "interesting dinner" (Dekel bitch!! its the last time I cook for u!! hehehrehe) to that endless bus journey to he falls ( how many hours mr driver?).
THANK U D.&G. I miss u guys. its been a year...
LOVE
IAN
note
. this guys have marvalous sites, take a look and read their travel journal. Theres an Argentina section o each. U'll find pictures and stories about their trip including me~!!